"The Troll"
– Originally Published July 2022 –
There were many who worked with Cloris Leachman before Harvey Kalmenson came along, and certainly many more who were privileged to follow in my footsteps.
But none will be able to claim more lasting joy forever than I.
Yes, I got to work with Cloris Leachman.
A day to last a lifetime!
Right smack in the middle of working on a movie, called "The Ice Whale", at a meeting conducted by Don Bluth himself, we were informed the production was being stopped and we were immediately beginning work on "A Troll In Central Park".
NOTE: There's quite a story that goes with the cause for Don Bluth making his decision, but perhaps one day someone will make a movie out of it. It won't be da harv.
"The Troll" was how I referred to it from day one. The next day, following the announcement, scripts began coming from Ireland. Pages kept flowing my way. I was enjoying everything about what was transpiring into a constant excitement and challenge it offered us all.
After completing my personal script breakdown of "The Troll", I was ready to move ahead with my celebrity choices for the some forty or so speaking roles, beginning with the lead(s) being cast first. My very first choice to be sent to Don Bluth in Ireland, seeking his slam dunk approval, was for Cloris Leachman as "Queen Gnorga". She would easily be our biggest named star of the film; I was sure of it.
Other than leading roles being written and secured as soon as possible (the nature of the way feature films take place, having to do with financing being secured), there is usually a flow of rewrites through the project duration, requiring additional and constant assignments being made throughout the casting.
Early the very next morning, my supervisor, John, called me into his office to let me know he wanted many more actresses to choose from. I was absolutely shocked and disappointed, to say the least! John relayed the message from Don Bluth, loud and clear, he wasn't familiar with Cloris Leachman's work. I couldn't believe my ears. "Come on, John", I said. "Cloris has more awards for acting than just about any other currently living actress alive, and still at work and in constant demand!" All to no avail. The word had come from Don Bluth, and that was all there was to it.
About eight weeks went by and almost all of my celebrity casting had been completed except for one remaining role, that of "Queen Gnorga". Once again, I was told by John he wanted me to submit Cloris Leachman for the part. I got upset a little when I was told by John he got the idea for Cloris Leachman from his next door neighbor. "She was my first choice ten weeks ago, and you told me Don wasn't familiar with her work!" He answered, "Well, he wants you to send him some samples of her work." I explained to him her work was available in every English-speaking country in the world. "I mean… give me a break. This has to be one of the silliest assignments I've ever been given!"
That same day and into the evening, I went after it like a rabid dog in search of food! Something different that would make Cloris the only possible choice in the world who could possibly be right for playing "Gnorga".
And you read correctly. It isn't unusual at all for it to take many weeks in order to cast the celebrity voices on an animated feature film, especially in today's market arena when a casting director and the producers might be scattered all over the world. In this case, my work was made a little easier because of the fact it was a "favored nation's arrangement for all the celebrity casting". (All the celebs got the same money…) Much has changed, especially da harv!
It was hard for me to believe it could be possible for the head of a studio not to have been familiar with the work of the one and only Cloris Leachman. It was like first-class "One Flew Over the Cuckoo's Nest"! Then, without notice, two good things happened—I can't recall in what order.
One of the premier artists at Sullivan Bluth, who was considered a key player with the company, explained to me over lunch of the process at Bluth. Turned out, Don Bluth knew all about Cloris Leachman.
I received a call from a distant friend who worked at the UCLA Film library. He had discovered a recent series of film clips that had been put together in celebration of a Cloris Leachman birthday party. The film was almost entirely a collage of excerpts of scenes of her performing a wide variety of roles in award-winning performances being requested by guests at her birthday party.
The next thing to do was get them off to Ireland and into Don's hands, along with my note congratulating him on having chosen Cloris as his first choice. Within twenty-four hours, I was on the phone making a deal for Cloris to become our "Queen Gnorga". The way it worked out: my first and only choice for the part of "Gnorga", Cloris Leachman, ended up being the only celebrity casting that was never replaced during the production of "A Troll In Central Park".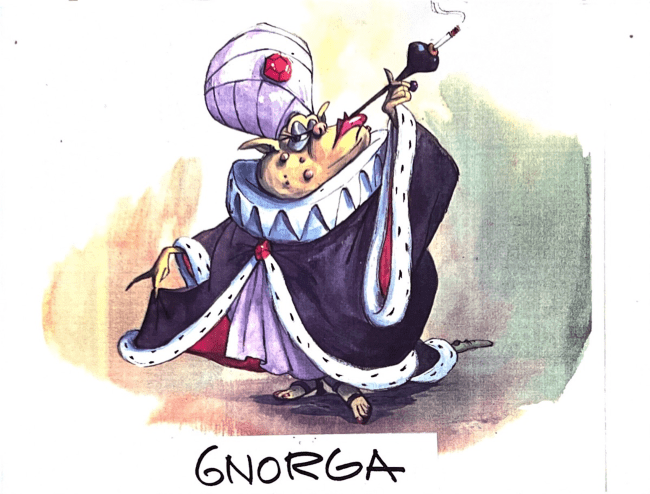 Queen Gnorga from A Troll in Central Park (1994)
OUR DAY TOGETHER AT WORK
In no uncertain terms, I became the stage manager for all and everything taking place during the recording of "A Troll in Central Park". Even Don Bluth and Gary Goldman acknowledged my work as being the best they had ever experienced. To this day, it remains a strange happening—or should I say, even though they paid me well, Harvey Kalmenson's name never appeared on anything emanating from the Sullivan Bluth organization. That's not to say either Don or Gary had anything to do with the supposed oversight. They had both been extremely cordial during my stay with them.
1974 CLORIS AND FRIENDS
Never a dull moment. She was always working with the best performers Hollywood had to offer. For me, it was once again "hog's heaven" time.
As planned, the limo carrying Cloris arrived at the studio right on time, and as planned, da harv was there right on time as well. "I'm Harvey Kalmenson", I offered. Cloris placed her arm in mine. "Oh, I know who you are," she said as we moved away from a large crowd of people who had gathered in anticipation of her arrival. It was all business for both of us.
My young assistant was introduced to Cloris, and he instantly reported to me. He had checked out the back seat of the limo, as well as guaranteed the phone number of the driver, and acknowledged he would be in the vicinity of the recording studio in order to pick Cloris up at our request.
At my instruction, it was to be the same driver who would be picking her up at the end of the session. The driver was to remain with Cloris until she was securely home, or at the location of her choice in Los Angeles. Cloris Leachman would be receiving the star celebrity treatment she had earned—never demanded.
At the end of the session, Cloris had come around and into the control area. I had put my head down, resting for a moment on my hands. Cloris deliberately ignored everybody in the control area and moved over to where I was resting while she began to rub the back of my neck. It was then, that the one and only Cloris Leachman said in a very polite voice for all to hear, "Thank you for your help, Harvey".
My goodness, "A Troll In Central Park", was about forty-nine years ago. The best part of this business for me isn't the money or the acclaim. It was the genuine graciousness of the very one and only: Cloris Leachman.
Harvey Kalmenson