You... are a producer of media format, requiring a voice:  commercials, video games, animation, industrials, audio books, etc. You are seeking: voice over solutions from an experienced, well-respected voice over casting company, not a talent agency.
Our priorities are YOUR priorities:
Your budget
Your creative specs
Your deadline
Our driving force:  TRUTH CASTING
You'd like: creative, strategically selected/well-directed, budget friendly  voice over casting and auditions.  Union or non-union. Celebs or scale talent, all languages/accents; real people,  improv/stand-ups, etc.... any age, all types and personalities.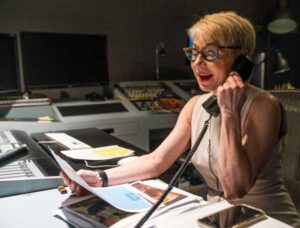 Our ever-growing database (we created) of over 31,000 voices gives us a superior edge in the global casting community. When you're looking for the right fit for your project, come to us to find it.
You… are interested in pursuing an education in voice acting, to prepare for, and grow your voice over career with the most experienced educators (and casting directors) in Los Angeles, and globally:   Kalmenson & Kalmenson.  We provide career voice acting training with a full curriculum of course options featuring "The Kalmenson Method for Voice Acting", a bridge connecting your truth to the truth in any given script. Voice over is an acting craft. These are acting classes, which include interactive performance exercises, as well as covering the business aspects. K&K offers a full curriculum of course options, for all levels of study.  Payment plans available. For all levels of study.  Payment plans available.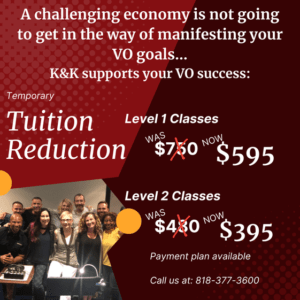 ONLINE (Zoom) classes scheduled for 2023!
Please call K&K to reserve your seat.  Please note that there is a maximum of 10 students per class and reservations are booked on a first-come, first-served basis.
Securing your enrollment happens by phone:  818-377-3600 x111. We're here for calls, Monday through Friday from 9am to 6pm PST.
Prior to calling, please review the available classes by going to the Class Schedule.
We highly recommend you call with questions and for counseling to help you determine which class is best for you.
Your seat is only guaranteed by our receipt of class payment in full;  or with a non-refundable deposit, if you are paying via one of our payment plans. Please call us for guidance.
KALMENSON NEWS!
Co-Founder and head of Casting Cathy Kalmenson's Interview with Daily Variety shares her insights on VoiceOver and the state of A.I.
Read all about it below!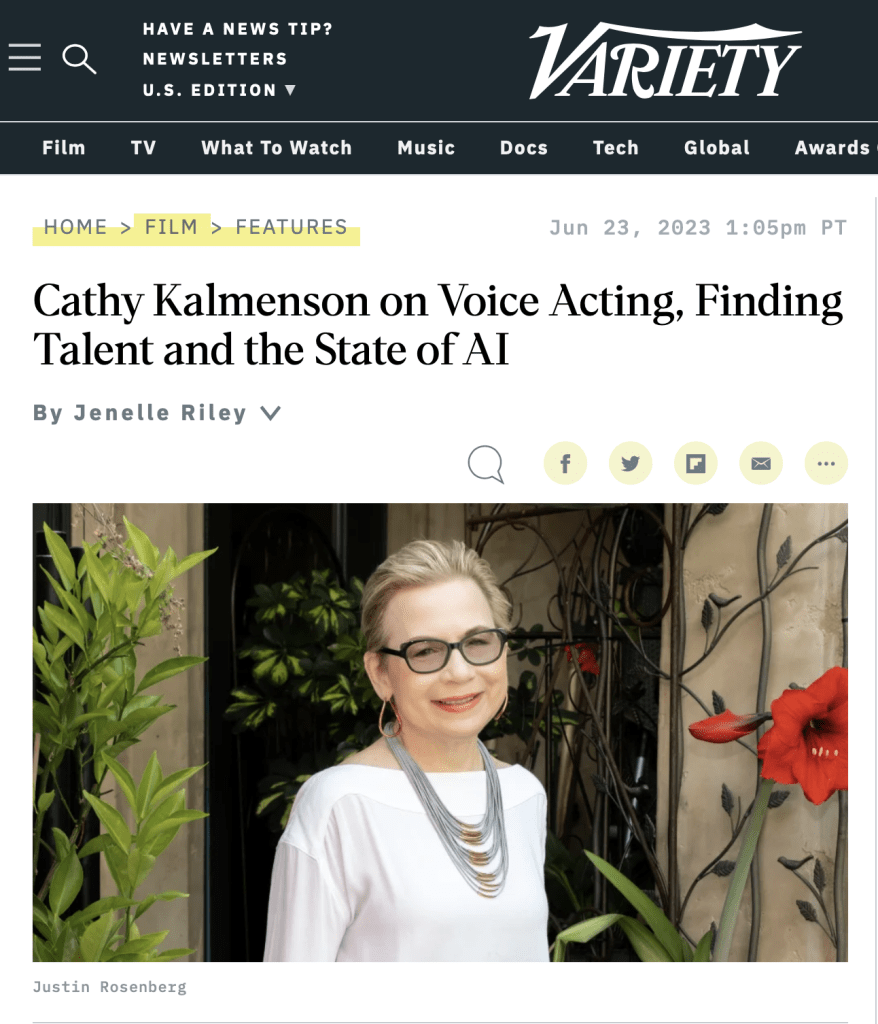 Click Here to Read the Full DAILY VARIETY Interview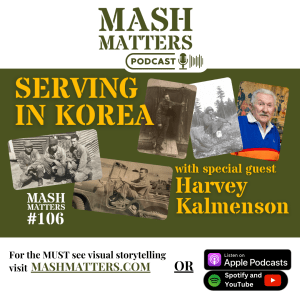 Click Here to Listen to the Full MASH MATTERS Podcast
Click Here For More Kalmenson News
Just finished class and LOVED it? Please share your experience with the universe on GOOGLE REVIEWS, YELP, FACEBOOK.
Join K&K Casting Icons on VO Buzz Weekly!
Gratitude and gratification became our words as episodes for a three-part interview of Cathy & da harv hit the YouTube site and sound waves! Stacy J. Aswad and Chuck Duran the hosts of The Voice Over Buzz Weekly are presenting the most informative and lustrous insights of the voice over industry.
Apparently people like what the "Kalmensons" had to say. And if you'd like to experience what this "buzz" is all about, catch the interview below!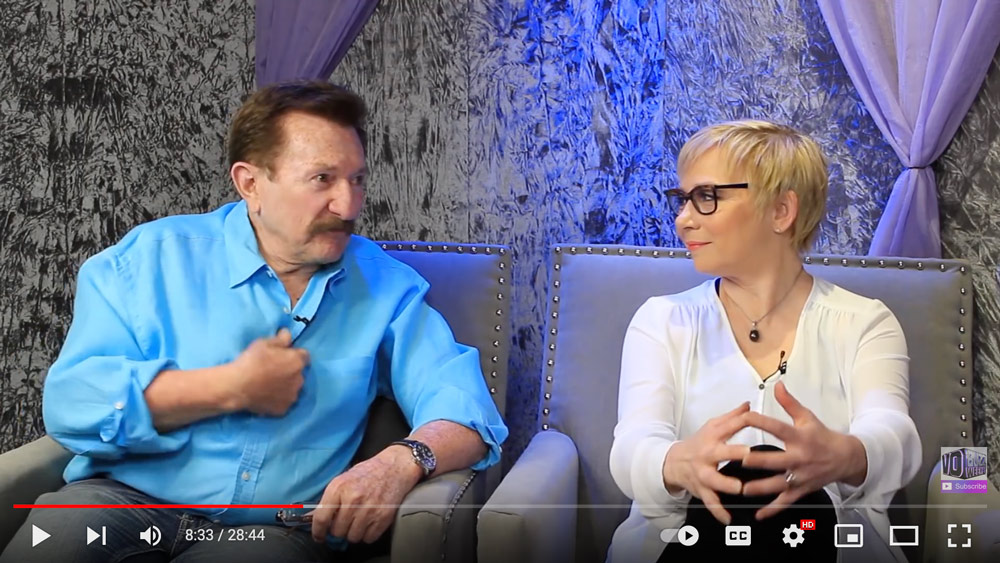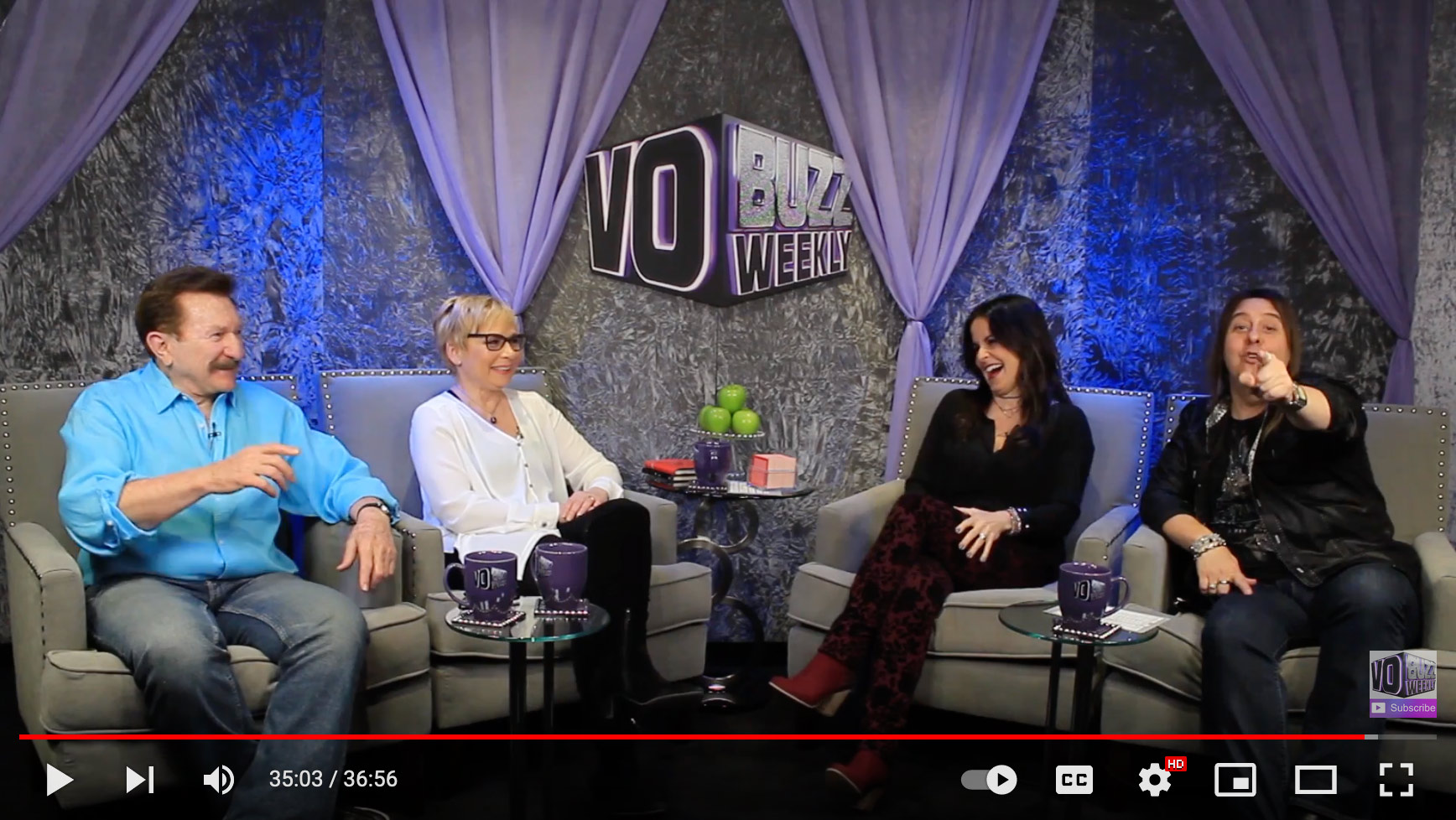 Casting News
We're Proud to Present Our Recent VO Casting Accomplishments!
When the mission is "real", we deliver....
WELLS FARGO - "Meet Fargo"
Zillow Rentals - "Sweet Spot"
Toyota - Jessica Long's Story "Upstream"
Gatorade - "Bring the Heat"
Turbo Tax - 2019 Super Bowl Commercial - "RoboChild"