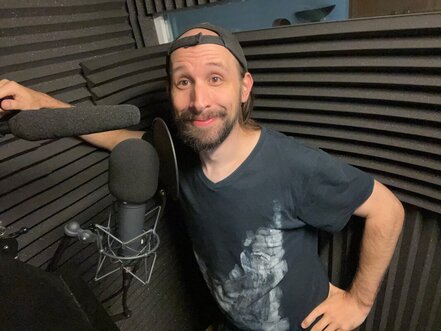 Andrew is a voice over actor who has worked every job in Animation. He started his career answering a craigslist ad to intern for a new "stop motion cartoon". That show later turned out to be Robot Chicken, for which Andrew was a part of over 100 episodes. While working there, Andrew discovered voice over and started recording the show's temp tracks.
From there, he's gone on to voice commercially for clients such as Google, eBay, Walmart, PF Changs, Eclipse gum, 7-11, Qdoba, and Hepatitis B. He also co-starred in the cartoon Outlands with Felicia Day, Dana Snyder, and Adam de la Pena.
He was an actor, writer, director, and creator on the animated sketch comedy series TripTank for Comedy Central. Andrew also directed the show's celebrity voice records and has built a niche in that field. He directed Mike Madsen, Danny Trejo, and Ron Perlman in the animated series Explosion Jones for Go90. Currently, he is on the shelves of Best Buys and Targets across America as Smirk, the voice of the programmable robot Cue by Wonder Workshop.
Andrew has been a part of hundreds of episodes of television and today, he's here to help you along your voice over journeys.