You and the director, perhaps it was me.
Then and now, what was, and what would it become!
Click, click; it's 2022
Da harv is still here
Wait just a minute
What about you
Could it be
Whence you say
Forty-five years ago
Oh, I seem to recall
A very warm and sunny June day
A wife was about to have me leave
Not to worry, da harv wouldn't grieve
Though it wasn't at my behest
"Losing weight" can be a good thing
One hundred and eighteen pounds gone
Never to be regained
But it was then, you say
What about our life's game today
Yours and mine
The ongoing question actors are often heard to pose: "What kind of a director was he to work with?" The question I ask, not as a director, but more as the educator would be: "What would you do if there were no directors to work with?"
Today, the ball is in your court. Aside from folks like Kalmenson & Kalmenson, actors must, by the nature of things, be a stand-alone entity. Without equivocation, I can say after all my years of experience, "most actors who have not studied the acting craft of voiceover will go up in a puff of smoke." I'd like to take some time in order to explain what has become our actor's culprit.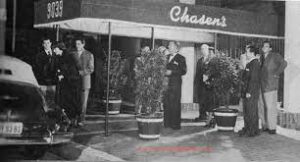 A needed reflection– 1977: There I stood, on Beverly Blvd in front of the very famous "Chasen's" restaurant, across the street from Abrams-Rubaloff, who at the time, was arguably the most dominant commercial talent agency in Los Angeles. This was to be my first day as a commercial voiceover talent agent. My early morning contemplation on this less than auspicious occasion was whether or not to even enter the building in pursuit of a new profession. Neither of the top two movies of the year, "Star Wars", or "Rocky", added credence to my decision-making process, although "Rocky" did garner the most number of Oscar nominations for the year.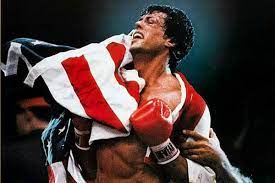 And in this sacred moment in time, our year of the lord 2022, I find myself in reflection for the sole purpose of comparing notes about then and now; what was then, and what is today. I grew up in a household where mom and dad were in general agreement about the history and how we as Americans oftentimes forget how fortunate we are to be living in the greatest country in the world. As my mother called it "THE UNITED STATES OF AMERICA". Take note of the capitalization. Mom would usually stand up when delivering that quote.
With my own environment in mind, I thought I might pass along some facts of how life was, dollar-wise, and how it's a little like what we're incurring today.
What happened in 1977 in the United States &
How much things cost in 1977
Yearly Inflation Rate 6.5%
Year-End Close Dow Jones Industrial Average 831
Interest Rates Year End Federal Reserve 7.75%
Average Cost of new house $49,300.00
Average Income per year $15,000.00
Average Monthly Rent $240.00
Cost of a gallon of gas 65 cents
Bikini $9.00
Renault Gordini $6998.00
BMW 320i $7990.00
Barbie Road Trip with Motor Home, Dune Buggy, and a Bicycle $72.95
Wrist-Worn AM Radio $7.95
5 inch Portable TV $147.00
New Stereo System $247.95
Middletown, New York Ranch 3 bedrooms, 2 baths, living room family area, and double garage $33,000
Star Wars opens in cinemas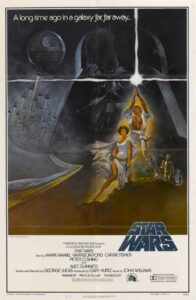 First Apple II computers go on sale
TV Mini-Series "Roots" is aired
First commercial flight Concord
NASA space shuttle first test flight
Alaskan Oil Pipeline completed
New York City Blackout lasts for 25 hours
Jimmy Carter is elected as the 39th President of the United States
The precursor to the GPS system in use today is started by the US Department of defense.
Singing sensation and pop culture phenom Elvis Presley appeared in Indianapolis and performed what would be his last concert.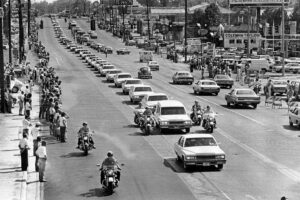 A string of white vehicles follows the hearse carrying the body of rock and roll musician Elvis Presley along Elvis Presley Boulevard on the way to Forest Hills Cemetery in Memphis, Tennessee, on August 19, 1977. Thousands of people lined the route for the city's final tribute to Elvis. He died at home in Memphis on August 16, 1977, at the age of 42.
To be continued… (God willing)…
Harvey Kalmenson