"What's On A Desk"
Who in this world would have the self-serving dimension of taking a picture of their own desktop? Well… I did, and what did I find?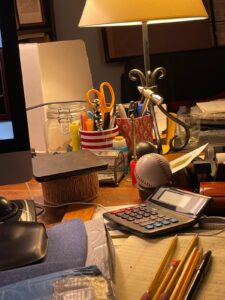 There before me was "Slocum the Yocum" — a fine array of da harv's truths. November 28th, my birthday, has come and gone, and unfortunately, with it a more than a suitable accumulation of deceitful vacuous time periods. "Slocum the Yocum" was a nonexistent accountless nobody, invented by my dad whenever life presented a need for someone to blame. Dad felt it was important to have a deterrent he could use against anything that even remotely got in the way of his hard work. "Harvey", Dad would say, "It's only a delay. A temporary stop along your way. Don't be a Yocum. Use your God-given bloodline! We're not going to fail! Damn it!"
There was a day and time when I had no desk to lean upon. There were no things to look at with or within the contemplation of revelry of what the future might bring into my fold. Only the presence of current circumstances languished upon my dreams of better times. Days filled with thoughts of all illnesses being vanquished from this desk of mine. Believing in what I call: "The wild and determined call of the surreptitiously placed items of what may or may not be or become identified or mindfully misplaced in one's lifetime." This happens to be my desk, and so perhaps if it could speak, it most likely is a compilation of a man's dreams; some left in their original package.
Harvey Kalmenson