Our own personal civil war
IT happened, and I was there and deeply affected by it:
The Strike of 2000
As an aside from my honest intention of keeping personal opinions to myself, rendering only solutions that will assist and encourage actors on their path towards success, I, nevertheless, feel duty-bound to offer my observations regarding both unions, SAG and AFTRA (which are now one), in general.

As a casting director who has seen as many as twenty-one thousand actors in a single year—yes, you read correctly—I found myself deeply caught up in the longest strike in the history of either guild. In short, the commercial contract that covers the relationship between the guilds and the producers had come to an end, with the result being the aforementioned strike.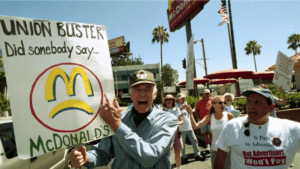 For a period of six long months, most of the commercial industry was at a standstill. This shouldn't come as news to anyone. I mention the strike as a reference point because I have so often been asked by actors, as well as by the press during a variety of interviews, what it was like during this great debacle. I'd like to point out that I am, today, and have been for many years, a member in good standing in both the Screen Actors Guild and the American Federation of Radio and Television Artists (both have now joined forces under one single banner).
What follows is a man making an observation of his own family. Usually, in a war, you find one side against the other. Ours, however, was not only a war against the other guy; it was also an ongoing civil war conflict festering as an abnormal cyst from deep within an organization of separated whiners. We were union members that were not united. We were outmanned and outfought by a vastly superior army. The so-called enemy was similar to a country with unlimited resources. Our troops were forced to buy their own clothing and rifles, and ammunition.
Written by da harv in July 2003:
Today, the producers remain in the same condition as our economy; showing signs of renewed vitality, but not yet in a full recovery mode. What has been a noticeable change is that today we are doing castings with a very noticeable amount of commercial voiceover work in non-union assignments.
Today, Friday, 18th March 2022:
It is important to note that while we solicit all the major advertising agencies for casting work, we have never specified a preference for either union or non-union casting assignments. What I'm taking the opportunity to document is a simple fact of life: There has always been non-union work for actors, and it has strenuously gained its lasting—and gathering—momentum. Contrary to what either union would like its actors to believe, many union actors have and continue to put bread on their tables with honest money earned on non-union jobs. Since many of these men and women remain friends of ours, I will not ever divulge their names, nor give witness to who did or did not take part in non-union work during the strike period.
Note:
During the six months of the strike, Kalmenson & Kalmenson's two fully equipped recording booths stayed constantly at full casting capacity, with a constant flow of simultaneously conducted auditions of both union-approved and non-union assignments. The most well-known advertising companies availed themselves of our services. To this day, high-rolling sponsors of the past decades continue doing their commercials without flying the union flag. The attitude of the producers became universally solidified when the unions chose to stick with a rigid set of rules during the strike negotiations. It was at this time that the producers discovered they could continue to produce their commercials with non-union actors, without too much in the way of sacrifice. While the non-union actors definitely had fewer skills to put on display, they quickly improved by way of experience. Many actors, who couldn't get work because they weren't union members were now able to secure work.
There has never been a shortage of actors. Union or not. Specifications, whether or not the work is union or non-union, are of little or no importance to what we have included in our workshop syllabus. We are in the business of training actors in a specific acting craft. Work is work; the actor must continually study his craft. Whether our work is union or non-union, it will not, and must not, deter our actors from focusing on the importance of good study habits. Union or not, the excellence required in order for the actor to succeed will always be determined by each individual actor.

Harvey Kalmenson