"From within our life's reflections, the truth will emerge, and we will see it if we choose."
Harvey Kalmenson
I've often talked about my amusement over what I found when I first entered the world of commercial voiceover. Like so many before me, theater was my passion. The excitement of putting on a live display of talent often presents a lifetime of exhilaration. But along with the exhilaration of the audiences, the theater also brings feelings of desperation when the lights go dark.
It was during one of these unfortunate dark moments that I found myself willing to take on whatever work might provide for my life's salvation. I was willing to do almost anything—honestly—in order to support my family. The last thing on my mind was any thought of me becoming a commercial talent agent, especially an agent who would be specializing in voiceover.
A very close actor friend of mine offered, one day, that his voiceover agent was looking for an assistant to direct voice auditions. Without the slightest idea of what I might be getting myself into, I agreed to have him set up an appointment to meet with the powers that be. That power was a man named Noel Rubaloff, the president of one of the foremost commercial talent agencies in the country at the time—Abrams Rubaloff & Associates.
I found Noel to be a nice enough guy. Our meeting lasted a quick twenty-five minutes. I didn't feel there was much chance of me being hired. For sure I had tons of industry work experience, but the facts were simple; he was looking for an entry-level person, and I certainly had the credentials of a man who far exceeded that rung on the ladder.
Honestly, I thought my meeting with Noel Rubaloff would prove to be nothing more than a pleasant interview with an industry leader. To my surprise that evening, the phone rang and it was Noel on the line telling me that I was way overqualified for the job, and all he could offer me as a salary would be insultingly low for a man of my stature. He was correct. The money he offered was insulting.
Well, guess what, I accepted the job figuring I'd just be passing through and before long I'd be back working again as a production stage manager. I reasoned it a safe assertion that I considered being out of work to be far more of an insult than the meager two hundred dollars a week that Noel was willing to pay.
The next day was my very first day at Abrams Rubaloff & Associates. It was the beginning of a seven-year trip. Simultaneously, I was introduced to the head of the voiceover department and to my first commercial script. It was an almost instant depressive state of humiliation. What happened next is what I refer to as my "what is it," syndrome. I had never seen a commercial script, let alone attempted to direct anyone on how to read it. Some of my colleagues, the actors, were constantly there helping me. Admittedly, I'm only referring to a small and confined group.
The fact is the actors I chose as my role models also happened to be the top money earners in our industry. Each of them had scored in just about every area of the performing arts. Film, stage, radio, and in no uncertain terms, voiceover. Noel Rubaloff had promised that through his doors passed some of the great names in our industry.
He wasn't exaggerating. His client list read like a Hollywood who's who. In no time at all, I found myself totally enamored with his stable of players. As a matter of fact, every once in a while, I was even able to forget about how little money I was earning. Unfortunately, my then-wife managed to remind me on an almost daily basis. Within that first year, my divorce was pending.
During the first few weeks in my new profession, I set a goal for myself. I wanted to understand how these experienced actors were able to make the transition from legitimacy into the world of commercial voiceover. At first, I found myself totally amused by the thought of a Burgess Meredith selling a breakfast food, or John Houseman advising people about what investment broker would be right for the head of a household to choose.
But then, my amusement turned to revelation. An unforced light was beginning to shine. These celebrity stalwarts, without knowing it, were supplying me with answers to questions that I would never have posed, were it not for their stimulation. Who would have dreamed that telling people about an airline, or what food to feed their pets, at which hardware or furniture stores to shop, would be the forerunner for my life's pursuits as an educator?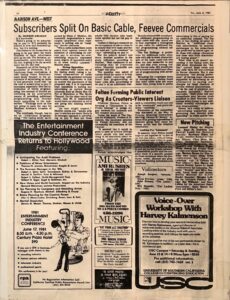 Variety Newspaper
Friday, June 5, 1981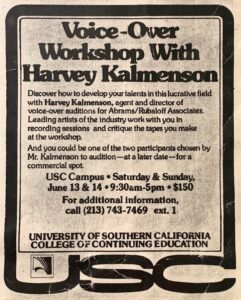 Although at the time I was already functioning on faculty as a lecturer at the University Of Southern California's college of continuing education, it was my study of our stable of players at the talent agency that bore the true responsibility for the emergence of the Kalmenson Method, as it is known and taught today.
I don't want to create the impression that from day one everything was peaches and cream. I did have some problems in areas that I never could have anticipated. One of which was my inability to focus on the commercial script at hand. The same actors I was so thrilled to be in the mere presence of were the culprits responsible for my inability to focus on whatever innocuous diatribe that might be our current commercial message of the hour.
For a moment, imagine my situation. At any given time, I would find myself directing an actor who, if not for our situation, I would be requesting their autograph. I mean, some of these people were my idols as far back as radio. There before me were the likes of Batman and Robin, Superman, The Lone Ranger, Sam Spade, The Shadow—heroes all! They came at me in waves. I was a kid in a candy store.
This isn't the scenario of a guy who wanted or dreamed of the very best in the world coming before him; this was a day-by-day, week in and week out happening. The best Hollywood and the world had to offer were being brought in to be directed by the little kid from Brooklyn, New York. As my buddies in the army would say, "I'm in hog heaven!"
To this day, while I have cultivated the most proficient methods for focus, I, nevertheless, remain completely and totally enamored by the talent that endlessly treks before me on a regular basis. Each and every actor became a contributor to my cause: the development of standardization and translation of my formal theatrical background and training into a method that would benefit the journeyman actor, in their career pursuits in the field of commercial voiceover.
As an aside, I was introduced to the term "journeyman actor" during a class I was participating in as a student. It was John Houseman who offered:
"Don't worry about becoming a star. Be a journeyman actor. There is a fine line that exists between those making the big money and those who labor on a day-to-day basis."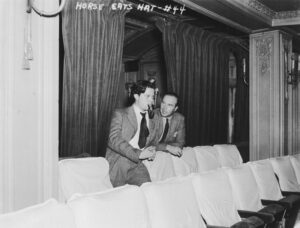 Orson Welles and John Houseman confer during a rehearsal of Horse Eats Hat, 1936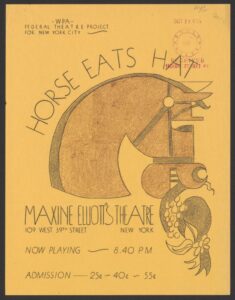 Horse Eats Hat, 1936
Mr. Houseman's offerings have stayed with me during my entire career. I had never reminisced by passing his scholarly assertions on to my own students. And along with his advice about acting methods came his very strident demands for punctuality. A late actor could forget about the class that day.
If what was going to be covered, was considered vital by John Houseman (and that was just about everything) the door to the class was firmly locked to outsiders before he began his instruction. In other words, "If you're going to be late, you're going to get screwed. An actors' responsibility is to be in house and in makeup long before the curtain is to rise."
I discovered early on that most of the actors who came to me without the advantage of theater background, took longer to master the craft of voiceover, if at all. Those actors who were experienced only in the area of on-camera commercials proved out as having little or no chance of making it in the acting craft of voiceover.
(to be continued)
Harvey Kalmenson