I lost my little boy
This lady said to me
I asked if she'd like me to help her find him
Is he like me?
A little older than you, she replied
A little older, she repeated in a softer voice
This time to herself
I was only eight, but thought
Brooklyn kids like me never get lost
And I asked her again, as my mother came up
She greeted the lady and took me by the hand
We said goodbye and parted
A step or two and my mom said
Her little boy is now in heaven
How do you know?
The lady has a gold star on her window
Her little boy was a man
For all the other little boys and girls
Who became men and women that way
Take care, and say thank you to them
This Memorial Day, 2023.
– HK –
---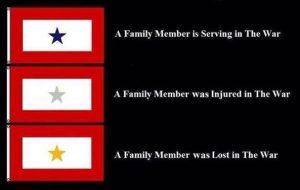 "This practice became much more widespread during WWII, when organizations and families took great pride and displayed banners indicating the number of members of the organization, or family, serving in the war.
Between WWII and today, the practice of wearing or displaying service flags or gold stars had diminished greatly… but the meaning of the symbols is as significant as it was 100 years ago."
– Larry Haggerty, IMCOM SOS*
*Sources: Google, U.S. Army (https://www.army.mil/)
---
From Da Harv's Personal Notes:
Remind yourself to write the way you feel, especially to keep it real. Draw from a past moment and recapture it, so when the true emotion of the moment has been revealed, share it.