"Meanwhile, back at the ranch…"
What about you and the director?
Those were the days my friends,
you and me,
we thought they'd never end.
Hello, here we go again– the voiceover industry has changed for the umpteenth time. Just a short couple of years ago, right before we all were hit with the atrocious happening called Covid-19, people like all of us, actors, actresses, agents, and the in-house folks known as directors, would report to work with actual human beings to share the space with.
There was no such thing as wearing a mask to work unless it was a bank and you were planning a stick-up! (Even the terminology has changed, I doubt if anyone refers to it as a "stick-up" anymore.) When banks went back to allowing customers to come onto their premises to do business, everyone in the joint was required to be masked. Years before, I had personally on occasion worn a mask myself while serving in the army; it was called a gas mask, and really not very stylish.
At Kalmenson & Kalmenson we've tried to catch our breath, figuring the mask-wearing would be over in a month or two at the most. Well, what do you know about that, we were wrong. During the course of what transpired during the ensuing painful two years, we found ourselves succumbing to the whim of this horrible business-halting disease. We were forced to close three locations and placed twenty classes per week on hold. From twenty-one Kalmenson & Kalmenson teammates, we went down to three.
To say the least it has been a most sobering, as well as a most harrowing event. Good news is happening at this very minute. Along with the masks being off, Cathy and da harv have "removed the gloves" as well. In August of last year, our comeback took hold. Our maiden voyage for our "virtual method delivery" has become a living, breathing, ZOOMING step in the best direction possible. Our teaching with excellence continues, we ardently pray without further interruption!
"Meanwhile, back at the ranch…"
First of all, let's get to what used to be the norm for an actor who was about to be auditioned…
TODAY'S VO AUDITIONS:
Voiceover auditions at your agent's office, a casting service, or even at the advertising agency, are rarely conducted today. In general, the environment and procedures have drastically changed— the jury is still out.
Your assignment remains the same: to make the very best from the direction you've been given, or not given for that matter. At this point, an actor needs all the help available.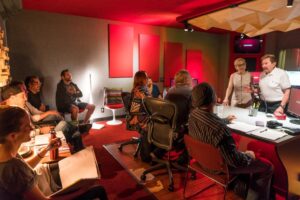 Self-direction is here to stay.
Facts of life for the commercial VO actors to deal with:
Self-direction is an industry necessity. It has become an important emphasis in our Kalmenson & Kalmenson curriculum.
Each VO actor should plan on implementing a broadcast quality home studio.
The days of the agents conducting in-house voiceover auditions are almost entirely a thing of the past. When the restrictions were placed on us all caused by the covid-19 virus, most of the agents began working from home. Many of the talent agencies have remained home-based ever since, facilitating saving a great deal of money on office space rentals. Many of the advertising agencies have done the same.
Kalmenson & Kalmenson remains as one of the few casting companies providing directed auditions for the actors. (It is not unusual for da harv to conduct as many as forty-eight auditions in an eight-hour day).
Director's Personal Notes:
Self-direction… Not to worry, there's always time to gain experience. The more experience you have, the smoother your trip will become. Just as there are no two actors that share complete similarities, I feel the separation in director-style is even greater.
In my opinion, I think you'll find that the fewer the number of words that a director uses, the better their direction becomes. The same credo definitely applies to the self-directing procedure. Keep your self demands as simple and uncomplicated as possible.
Please remember: voiceover is AN ACTING CRAFT!
Self-direction is an acting craft, as well!
Please allow us to help you…
Harvey Kalmenson