"Billy Rose"
Helping to build the industry we're in today!
His life, his work, his love of flair for performers, and their life and times —always in a faster lane than most!
"Rose was born in New York City. While in high school, Billy studied shorthand. He won a dictation contest taking over 150 words per minute, and writing forward or backward with either hand. Billy Rose began his career as a stenographic clerk to Bernard Baruch of the War Industries Board during World War I and became head of the clerical staff. Later he became a lyricist. In this role, he is best known as the credited writer or co-writer of the lyrics to "Me and My Shadow," "Great Day", "Does the Spearmint Lose Its Flavor on the Bedpost Overnight", "I Found a Million Dollar Baby", and "It's Only a Paper Moon". He went on to become a Broadway producer and a theatre/nightclub owner. In June 1934, he opened The Billy Rose Music Hall at 52nd and Broadway in New York with the first Benny Goodman Orchestra."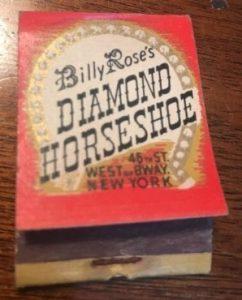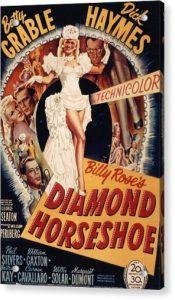 "He produced Jumbo, starring Jimmy Durante, at the New York Hippodrome Theatre. For the Fort Worth Frontier Centennial (1936–37), he constructed the huge elaborate dinner theatre Casa Mañana which featured celebrated fan-dancer Sally Rand and the world's largest revolving stage. He produced the Aquacade at the Great Lakes Exposition in Cleveland, Ohio in 1937.
In 1929, he married Fanny Brice, who went on to star in the 1931 Broadway production of Billy Rose's Crazy Quilt.
In 1938, he opened Billy Rose's Diamond Horseshoe, a nightclub in New York City's Times Square in the basement of the Paramount Hotel. It initially opened with a version of his Fort Worth show. The Diamond Horseshoe operated under that name until 1951.
At the 1939 New York World's Fair, Billy Rose's Aquacade starred Olympian Eleanor Holm in what the fair program called "a brilliant girl show of spectacular size and content." Future MGM star Esther Williams and Tarzan star Johnny Weissmuller were both Aquacade headliners.
In 1943, he produced Carmen Jones with an all-Black cast. An adaptation of Georges Bizet's opera Carmen, the story was transplanted to World War II America by lyricist and librettist Oscar Hammerstein II. It was an instant hit. The New York Telegraph called it "far and away the best show in New York"; The New York Times said it was "beautifully done … just call it wonderful." The New York Herald Tribune said that Oscar Hammerstein II "must be considered one of the greatest librettists of our day" and that Carmen Jones was "a masterly tour de force." It was made into a motion picture in 1954, for which Dorothy Dandridge received an Oscar nomination.
In 1946, Rose's memoir Wine, Women and Words, dedicated to Rose's early patron Bernard M. Baruch, was published in New York by Simon & Schuster. The book was illustrated, including the cover of the numbered and signed first edition of 1500 copies, by Salvador Dalí whom Rose met while producing events at the 1939 World's Fair."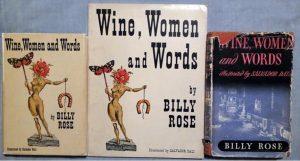 "Following the publication of Wine, Women and Words Rose appeared on the cover of Time on June 2, 1947.
From 1949 until 1955, Rose was the owner-operator of the Ziegfeld Theatre. During that time, the theater housed four musicals and five plays."
Thank you for the most improbable lifetime assist, Mr. Rose. And though I never had the pleasure of meeting you in person, like so many others before me, my life was touched by you. My father and his nine brothers and sisters experienced your work, mostly as the great New York impresario of his time.
Harvey Kalmenson
Source(s): Wikipedia, Google Images