Because I've Been Asked So Often
Because I've Been Asked So Often
You may have yourself been one of those
Who's asked me
More often than I can
Or choose even any attempt to answer
I, once again, entertained thoughts
Helping me swerve
From answering actors who feed
Incurable curiosities
About who has crossed my devious life's path
What pleasures and or the displeasures caused by those who may have stumbled
Onto the path taken by da harv during what now totals more than fifty years
Of lane changes within my chosen path…
Endeavoring, if for no other reason…
Then a touch more than mediocrity
I write as I have lived
In a disjointed fashion
Brought on by a profession without choice
I do admit having experienced great joy
If only occasionally
Certain special people along my way
Freely brought me unparalleled joy.
I pray I have offered much of the same to many of them.
Sometime during November 1954, I was separated from the United States Army. Following the long voyage home from Korea, I found myself on the deck of our troupe ship preparing to disembark, and heading to an airport for our flight from California to Fort Lewis in the state of Washington.
I do believe all of us guys were looking forward to returning to our homeland. But what took place at the end of our some fifteen days at sea was this feeling of uncertainty taking hold. I had been away from home for over sixteen months, yet I was uncomfortable in my own stead.
A good thing I figured at the time was that the Army presented me with mustering out pay of about eight hundred dollars. Today, it would be equal to $8,288. I didn't even have to spend a moment thinking about it. "Wine, women and song", was to last me thirty days.
While she wasn't even near the beginning in line with those industry folks I've met, during my travels within the confines of what is misnamed: "Show Business"— Peggy Lee, nevertheless, was as captivating in person as most women could desire to be. This fact of life has nothing to do with my current small place in the world of voiceover.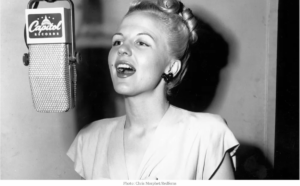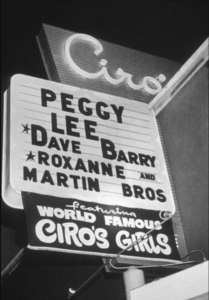 At the time my dear, wonderful cousin, show biz star, Dave Barry, was the opening comedy act at Ciro's nightclub, featuring the one and only Peggy Lee as their headliner. Dave had taken it upon himself to serve as my personal entertainment guide to the inner workings of nightlife in Los Angeles.
Dave made it a point to inform a couple of the chorus girls, that his friend Harvey was a returning soldier back from Korea. Backstage meeting some of these gals was almost too overpowering for me to handle. Somehow I managed to cope with it. "Oye, what a candy store for a twenty-one-year-old deprived soldier to be experiencing, in live and living color. Like one of my Army buddies used to say, "I was in hogs heaven!"
But, without me knowing it, the best was yet to come. The stage manager stuck his head in to signal the ladies it was time. Dave let me know for us to move outside the club and wait for Peggy to arrive. It had never occurred to me I was about to be personally introduced to Peggy Lee. (It was their procedure for Dave to be introduced to the audience as a signal that Peggy had entered the building.) Harvey Kalmenson was definitely becoming overly excited with expectations of what was about to happen.
Peggy's limo pulled up to the curb as a very large guy came forward from the crowd and stood ready for them to signal that Peggy was ready for him to open the back door of the car. Dave smiled at her as if it was a signal for her to move over to where we stood. She greeted Dave with a warm and friendly smile and then turned toward me. "I'd like to introduce my dear friend, Harvey Kalmenson". Peggy without hesitation offered me her hand. It seemed like everything stood still before I got myself to move toward her. We shook hands and she said to me without hesitation, "You look familiar, have we met before?"
In all the world, there was one Peggy Lee. And I got to meet her. Though we never met again or worked together during all these years which have passed so quickly, that evening of total enjoyment has stayed with me and will forever.
And through these many years which have fleeted by: the ups, the downs, the ins and outs, the visits to all around towns, the thousands I have preached to in life's entry-level, or those "pities" self-claimed as being renown. A question comes forward from one in the crowd, "Da harv, if you could meet and talk with anyone, past or present, who would it be? "
For sure an epic two
Like Sir Winston Churchill
From dusk until dawn
Drinking together
Listening to all and everything he chose to say
Followed by lady Peggy Lee
Rolling the clock back to 1954
If for only one moment more
A woman's hand in mine
And da harv saying
Do you remember me
In front of Ciro's
We've met before?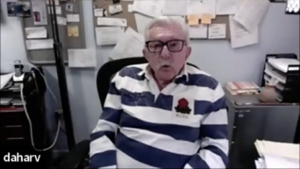 Harvey Kalmenson